Branching Off a Route at Angle θ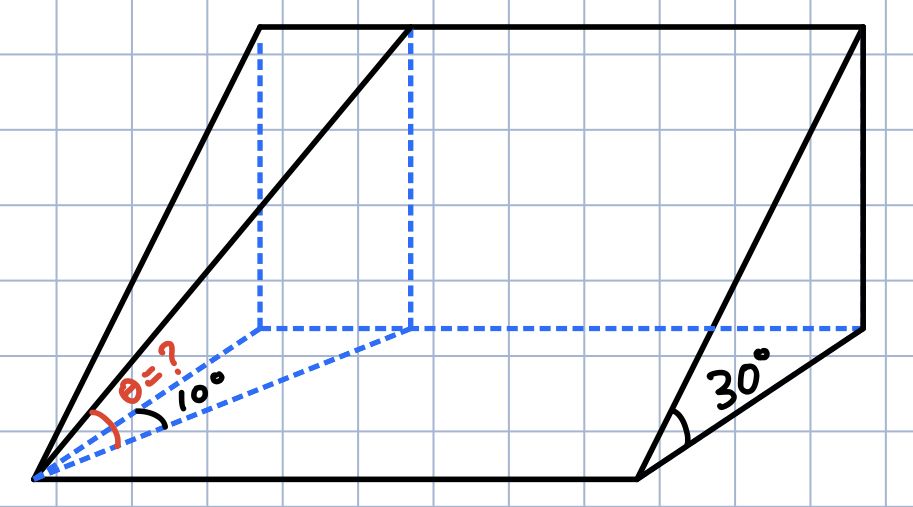 Consider the following question:
You are climbing a mountain by the steepest route at a slope of 30° when you come upon a trail branching off at a 10° angle from yours. What is the angle of ascent of the branch trail?
When the question says you are climbing up a route which is inclined at an angle of 30° it is fairly straightforward, the angle between the ground and the slope is 30° in angle.
Now we look at the branching off part of the question. It says a trail branches off from the route at an angle of 10°.
There are two possible options here that comes to your mind, hopefully:
The projection of the path which branches off from the original route forms a 10° angle with the projection of the original route
The path that branches off forms a 10° angle with the original route on the 30° inclined surface
With either of these two assumptions, you are supposed to find the angle between the branched route and the ground.
---
To put the two possible assumptions into perspective, we can put them into a frame in 3 dimensions.
(1) would yield this: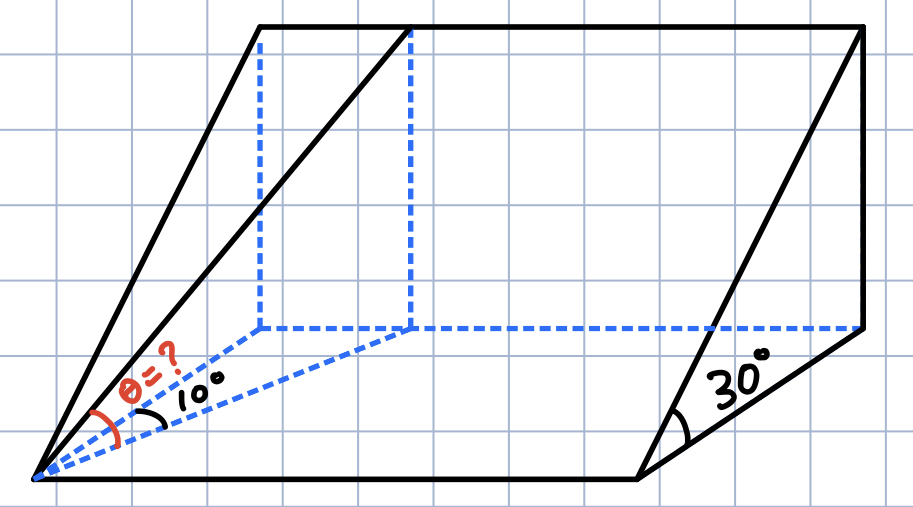 (2) would yield this: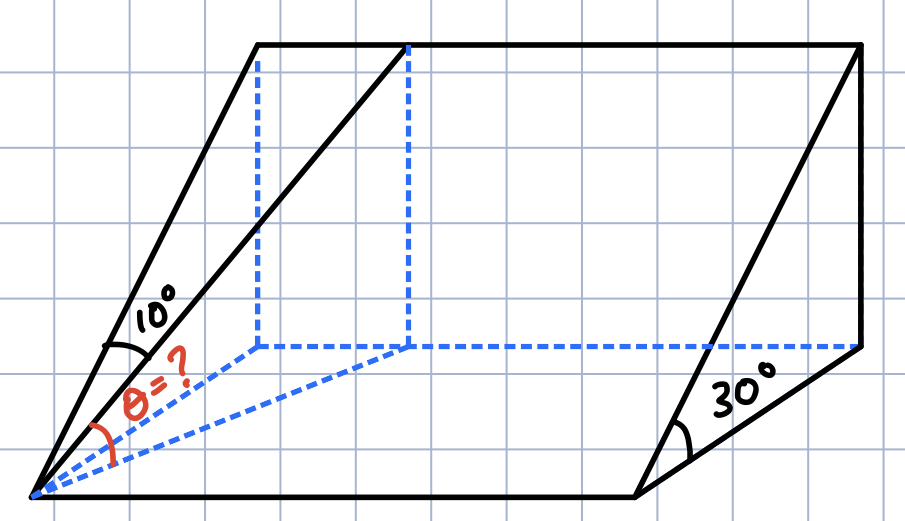 ---
These two all seem like possibilities...
BUT
what do you think when you are actually walking on a path?
You're definitely not going to model a projection onto the flat ground and make that projection deviate 30° from the projection of the route you are currently on.
Instead, what you see in front of you is: the path, the angle between the branch and the path. And not the angle in the other case.
---
After some calculations, you get the following solutions: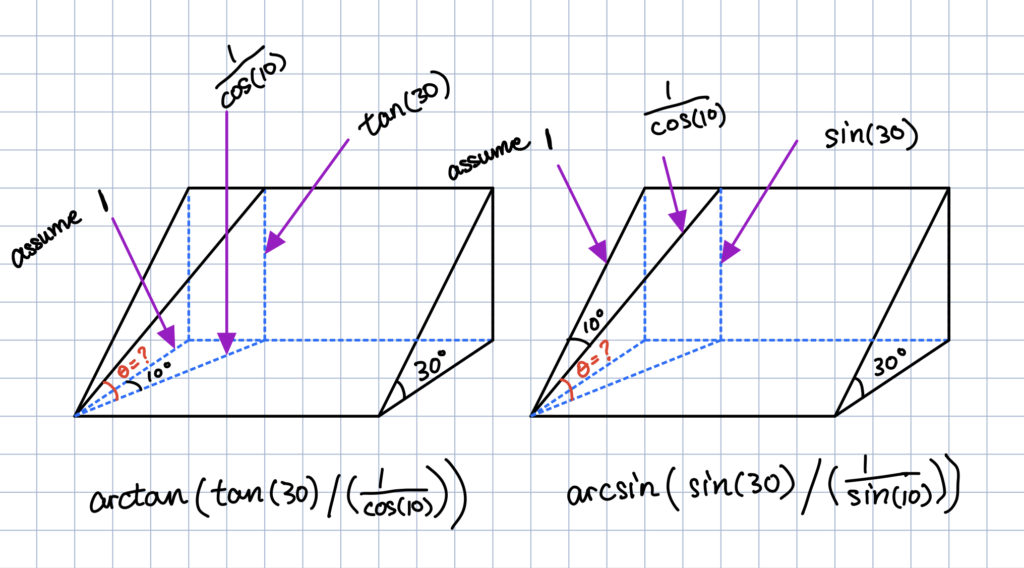 Now, we can put the interpretation that makes sense into the grading website
And you get...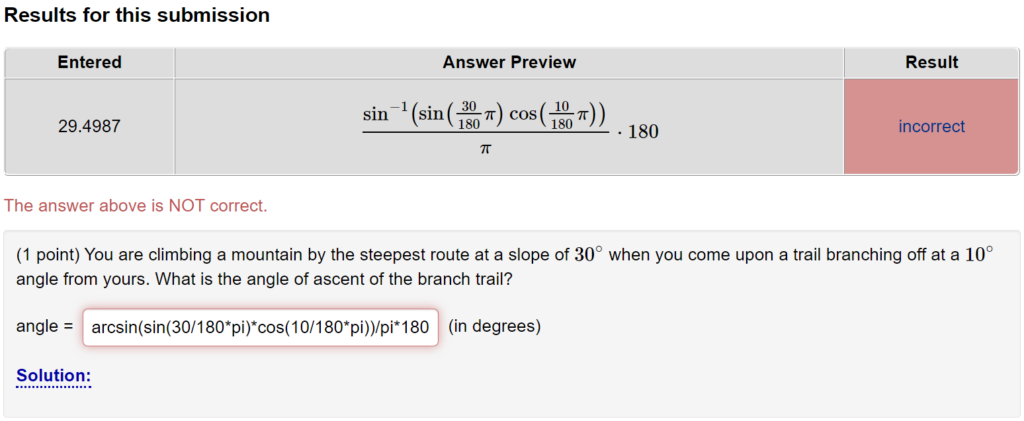 0 Points
Congrats!!...
But wait, I did it perfectly?! How is it wrong?!
Now a thought pops into your mind... What if, out of some possibility that the question is saying the other case...
So you re-calculated and put the the answer...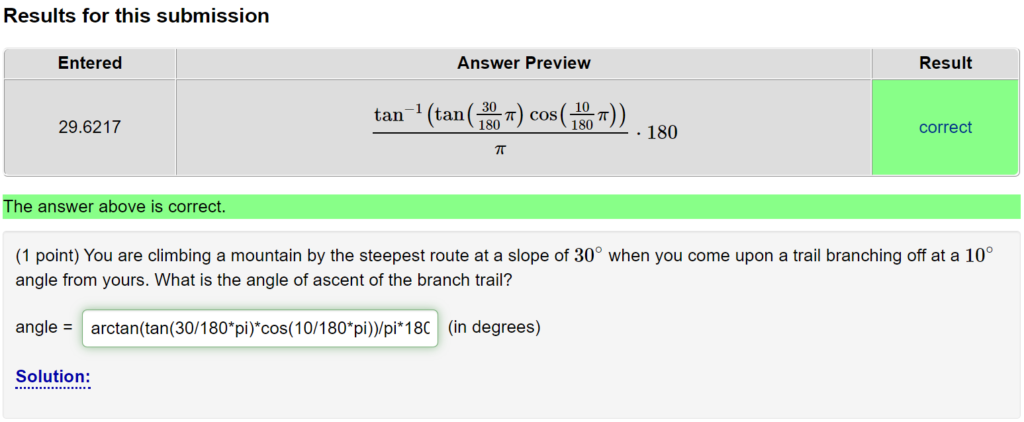 1 Point
So it turns out that the answer that makes less sense is the correct answer...
Which is not how you would normally think of it:
If this question were to be on a test, you would've thought you got the perfect answer, and be wrong, happily.
---
Some problems nowadays just aren't created perfectly, there are made from a concept(which is the only way, I admit), but they never truly consider how the world/peoples' minds actually work.
Well it makes sense that it can never be perfect.
It's just a little sad in a way
Thats all...